Писанки та їх Символіка

(Pysanky and Their Symbols)

Author:  Tanya Osadca

Format:  Softcover booklet

Pages:   8         

Language:  English/Ukrainian (bilingual)

Illustrations:   BW

Publisher:  The Ukrainian Museum (New York, 1980)

Availability:  unknown

Acquired:  unknown

ISBN:  N/A

This small booklet was prepared in conjunction with an exhibit of traditional pysanky for the Ukrainian Museum.  The cover has several very nice examples of "white" pysanky; the photos within are all black and white.

The book has a simple, basic synopsis of symbolism in the Ukrainian pysanka, with bilingual descriptions of solar, meander, plant animal, geometric and Christian symbols.  It is a handy, concise, little book.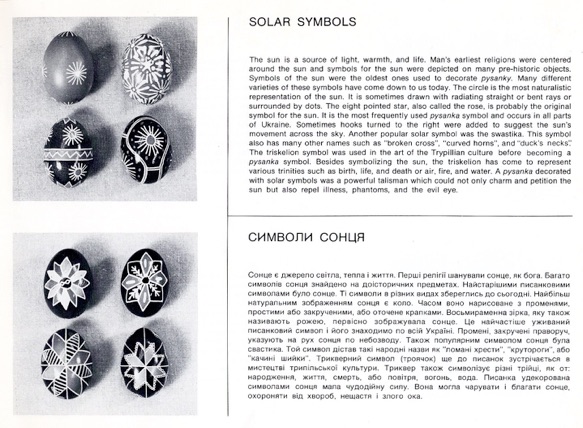 A sample page from this book

Back to MAIN Pysanka Books home page.

Back to MAIN Books home page.

Back to Pysanka Bibliography.