These are the sorts of wooden pysanky I used to collect when I was young, and when Ukraine was locked behind the Iron Curtain.  Some handcrafts did trickle out, and could be purchased at Ukrainian gift shops.  I couldn't afford real pysanky, and hadn't yet learned to make them very well, so these were the pysanky of my youth.

These wooden pysanky originated in Yavoriv, Lviv oblast, near the Polish border.  They were painted by Yavoriv craftsmen, along with other wooden items (decorative vases, spoons, mushrooms, etc.) and sold throughout Ukraine and eastern Europe.  Many collections in the USA, according to an ethnographer friend of mine, contain wooden "pisanki" painted in Ukraine and purchased in Poland.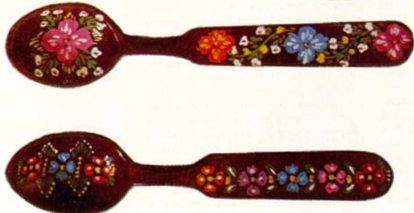 Yavoriv was known for its painted skryni (chests) and children's' toys with colorful motifs on a white or light background; in the 1960s local artists began to experiment with aniline paints (diluted with acetone), and began painting on dark backgrounds. They also expanded into knick-knacks and "souvenirs," like the eggs and spoons above.

Most of these wooden pysanky resemble real ones quite closely, and utilize traditional divisions and motifs.  The egg is painted a dark background color, and then lighter paints are applied to create a design.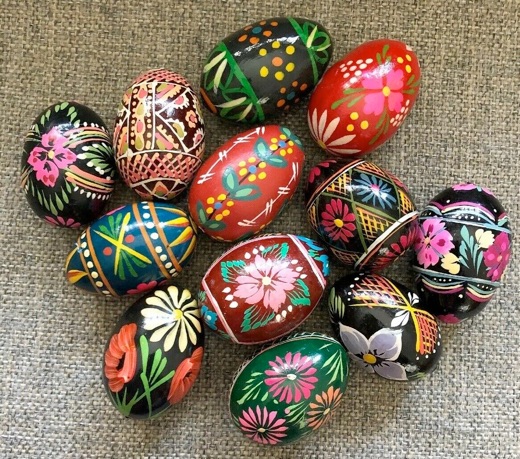 Most of the wooden eggs in the photos below are from Yavoriv.  The last few examples, including the white egg, may not be, but have a similar painting style.


Photo at top: from «Народне Декоративне Мистецтво Яворівщини», Р.В. Чугай, 1979.