A slightly outdated map of the Upper Peninsula of Michigan

I stayed with my friends Jan and Mark Klemp on my trip to the Keweenaw this past May (2007).  They have a beautiful old red sandstone house right in Laurium.  I had bought them a pysanka kit, and brought additional supplies so that we could make pysanky as a group.  Jan invited her neighbor, Linda, as well, and Mary and Maddy Baron came by.

The day of our event was quite unseasonably warm, and the kitchen more so, as Jan had made a fire to warm it up the night before.  We decided to make pysanky outdoors, where it was lovely and cool, and, fortunately, not too breezy.  We set up on the picnic table, and had a lovely time.

Linda brought with her a box of tiny cockatiel eggs–her bird had become widowed several years ago and, in compensation (or mourning) started to produce huge numbers of eggs.  Linda had saved them, and we used them to make tiny, miniature pysanky.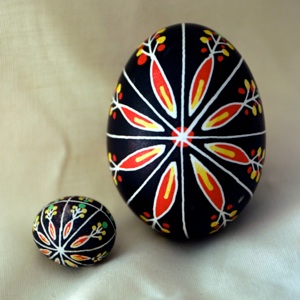 A cockatiel pysanka (left) next to an ordinary chicken egg pysanka