Although modern versions of the beaded pysanka can now be found throughout Ukraine, they are an indigenous folk art form only in Bukovyna, both northern (Ukrainian) and southern (Romanian).  These beautiful eggs were once created only in convents by nuns, and are one of the many Romanian influences on Bukovynian folk culture. In Bukovyna beads were also used in embroidery.

Beaded pysanky were created with a form of inlay:  an egg (real or wooden) was coated with beeswax, and then small glass beads were pressed into its surface to create patterns. The patterns were colorful and generally geometric.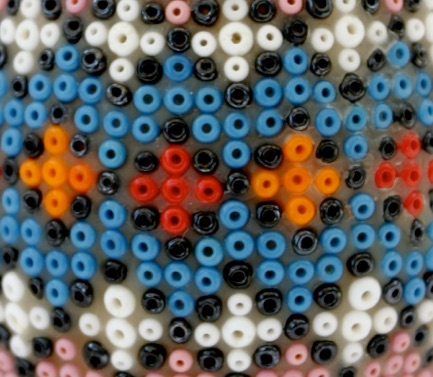 Detail of beadwork on traditional beaded pysanka

The beaded pysanky below are from two collections–mine, and that of artist and collector Ivan Balan, who lives in northern Bukovyna. I've included his here as the first examples, as they are older and probably more authentic than mine.