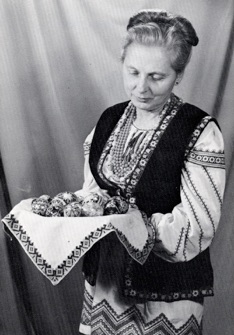 Making Ukrainian Pysanky
Author: Cecelia Ference

Edition:  3rd (1983)

Format:  Paperback booklet

Pages:  28

Language:  English

Illustrations: BW drawings

Publisher:  self-published, 1972

Availability:  out of print

Acquired: Globe Ukrainian store

ISBN:  N/A

This short book was one of many "How To" books that were published in North America in the 70s and 80s.  The books all had a similar format–a bit about traditions, a bit about symbolism, and then step by step instructions in basic pysanka-making.  This one was written in 1972 by Cecelia Ference, who appears to be the woman holding the basket of pysanky in this photo.

This book brings back memories of my childhood, as all the techniques described were taught to me at one time in Ukrainian pysanka classes at our church: using rubber bands to make straight lines, using crepe paper to dye the eggs, using spot remover to remove the wax.

Illustrations were drawn more with enthusiasm than with skill, as was often true in the pre-computer world. Some of the illustrations were quite intricate, as the pages below demonstrate; others were quite simple, such as this drawing of the items needed to make pysanky: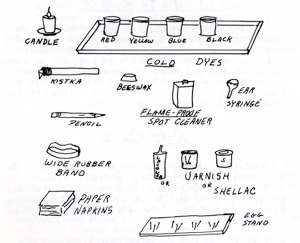 The book is written  in a nice, folksy manner, and includes legends, Easter traditions, symbolism, "some good basic divisions", and advice to

"Do make an effort to find Ukrainian people who may be living right in your own neighborhood.  They too can enrich your knowledge of Ukrainian traditions, for it isn't just Pysanky we are known for,-- it is the dancing, the embroideries, the singing, and of course the Ukrainian foods!  One of the nicest ways to meet your Ukrainian neighbors is to go to any of their church gatherings, for there is nearly always a holiday or a festival in the planning." 
The pysanky she describes–and draws–are all very much quite examples of the North American pysanka, utilizing traditional motifs, but with an emphasis on intricacy and originality.  You can see examples of such pysanky on the cover (above), and on these sample pages from the book: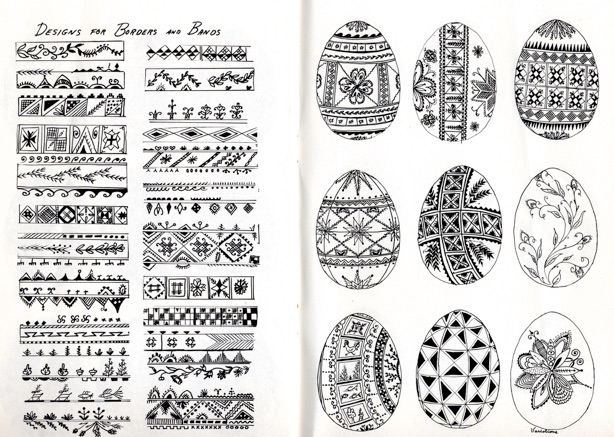 The black and white format limited the information that could be given about the designs; later authors would provide step-by-step diagrams to indicate proper colors.  But the North American pysanka was not about orthodoxy, it was about letting the imagination run wild, limited only by one's technological constraints.

Back to MAIN Pysanka Books home page.

Back to MAIN Books home page.

Back to Pysanka Bibliography.