Символіка Української Писанки

"Symbolism of the Ukrainian Pysanka"

Author:  Odarka Onyshchuk

Edition:  1st

Format:  Hardcover

Pages:  106          

Language:  Ukrainian

Illustrations:  33 color plates, several BW illustrations

Publisher:  self-published (Toronto, 1985)

Availability:  limited (out of print)

Acquired:  "Echoes of Ukraine" Art Gallery, Warren, MI

Electronic version: Yes

This is one my oldest and most beloved books about traditional pysanky, despite its many shortcomings.  I have recreated many of the pysanky pictured in the plates over the years. (These pysanky can be found in the sections on traditional pysanky.)

The text of the book is mostly in Ukrainian.  As is common in many Ukrainian language books, the introduction is translated into English (and French), but nothing else is. 

The plates have photos from various regions of Ukraine.  In the text, Onyshchuk discusses not only regional motifs, colors and techniques, but goes into detail about certain well-known designs (the berehynia, the cuckoo, the "Black Road", tears, etc.)  She quotes many sources, including folk tales, and poems. 

However, much of what she has written seems to be more her interpretation of what the eggs must mean, rather than what folk tradition (and many academic folklorists) suggests they mean. If you consult other sources (e.g. Manko), you will learn that many symbols have been renamed over time (tripods become chicken feet, the berehynia becomes a beetle or princess), so one must look deeply for meanings.  Like Avramenko, Onyshchuk often waxes eloquent about phytotherapy, suggesting at one point that п'явки (leeches) are useful for curing headaches (when placed on the head) and preventing stroke.  It is hard to determine sometimes how much of what she writes is folk tradition, and how much pure conjecture. 

Also, one is never sure if the names she gives to her pysanky are traditional ones, or merely products of a vivid imagination.  Many of the pysanky in her book appeared earlier in Kulzhynskyi's work, Elyjiw's Plast stamps, and even in Binyashevsky's 1968 book "Ukrainian Pysanka." Few of Kulzhynskyi's pysanky were named; Elyjiw included descriptors which were not necessarily the names of the pysanky themselves.  Both Binyashevsky and Onyshchuk have come up with names for these same pysanky, and their names are often quite different ("Swallows' tails" versus "Butterflies").  She has also taken it upon herself to move the famous "Gypsy Roads" pysanka from Podillya to Kuban.

Onyshchuk includes a regional map of Ukraine, an illustration of traditional pysanka divisions, and discusses pysankarstvo and other techniques of egg decoration briefly.

The biggest minus is the quality of some of the plates.  The colors are sometimes a bit muddy and hard to make out.  It seems as though the colors have been manipulated a bit too much, making the white areas of some pysanky dark or even pink.  Still, most of the eggs pictured have reasonably good color.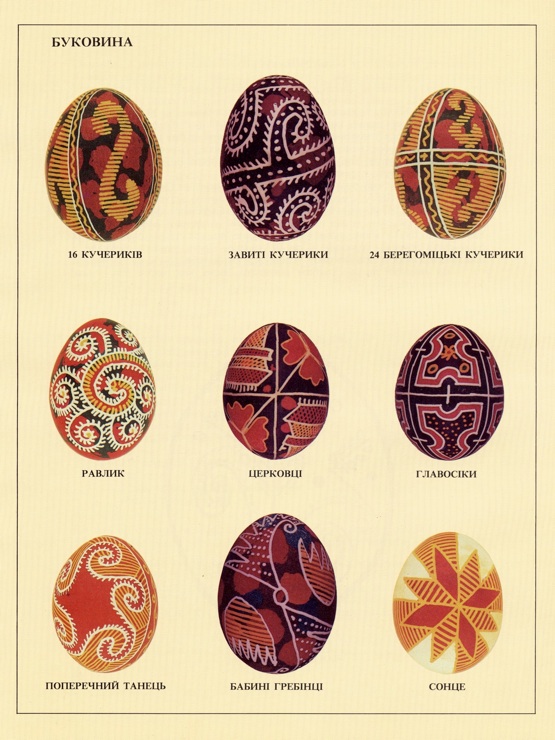 A sample plate (Bukovyna)

Still, it is a useful book to own, as the patterns are traditional, well executed, and relatively large.

I have recreated many of her pysanky myself, and have used her designs eggs to teach my students about regional pysanky, by creating a set of step-by-step pattern sheets.  You can see a few of these eggs and download the pattern sheets here.

Since this book is no longer commercially available, it can now be viewed on line through the Ukrainian Diasporan Electronic Library here.

Back to MAIN Писанка Books home page.

Back to MAIN Books home page.

Back to Pysanka Bibliography.