Pysanky Patterns & Designs

Author: Gail Parsons and Emily Vieyra

Edition: 1st

Format:  Large format softcover

Pages:  48           

Language:  English

Illustrations:  40 pages B/W

Publisher:  Stemmer House (Gilsum, NH, 2006)

Availability: Yes

Acquired:  Polish Art Center

ISBN:  0-88045-160-2

TL/DR:  Don't waste your money

This is a book written by two women from Kansas, and approaches the pysanka from the graphic design perspective.  There is a bit of text–a superficial history, legends, how to, and symbolism. 

There are niggling errors in the text–pysanky is misspelled as "pysanki,"  and Ukraine always has the article "the" appended in front of it1. 

An interesting fact quoted in the book is that Ukraine has more than 100 nationalities within its borders.  This may be true, but probably not more than any other modern European nation2. 

The forty pages of design motifs, while pretty, are mostly non-traditional.  Many are much more realistic than would normally be found on a pysanka, and others are abstracted products of a graphic designer's imagination. The orthodox cross is not only rendered incorrectly––the lower bar is much too long––but is the Russian variant, with tree bars instead of the customary Ukrainian two.

The authors take pains point out that batik eggs were a pan-Slavic phenomenon, which is true.  But they then choose to call the eggs "pysanky," which is the Ukrainian term, and apply Ukrainian interpretations of traditional symbols to modern ones.  It's all just a bit confusing.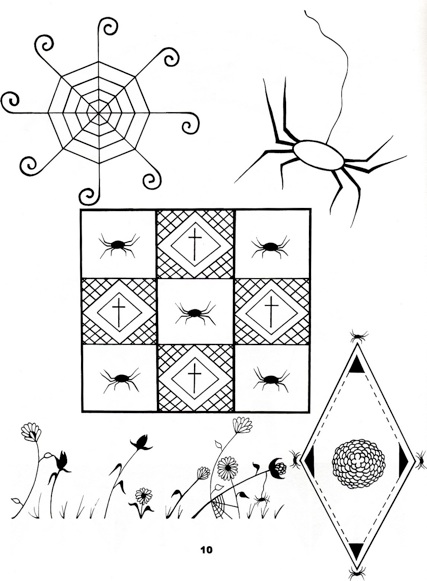 A sample page from the book on the theme of spiders. Spiders are a common motif

in Ukrainian decorative art, but are usually highly stylized rather than realistic.

___________

1."The" Ukraine is a Russian usage, and was introduced to deny Ukrainian nationality as separate from Russian. It has not been in common or official use since Independence, and was decreasing in use even before that.



2.Ukrainians and Russians comprise more than 95% of the population, and in border areas you you can find significant local concentrations of Poles, Belarussians, Romanians, Moldavians and Hungarians.  Crimea, which was never a historical part of Ukraine (Khrushchev appended in 1954 ) has a significant local concentration of Tatars.  The rest of the nationalities include peoples from the former USSR and Warsaw pact who moved to Ukraine in Soviet times, Jews, Greeks, Roma (Gypsies) and Germans.

Ukraine's ethnic heterogeneity was much greater in pre-Soviet times. Ethnic cleansing and relocations were carried out by the Soviet government, with most of the Tatars being transported to Siberia, and Poles being moved to Poland after WWII. The Tatars were punished for resisting Soviet rule, and the Poles were "repatriated" at the request of the Polish communist government (which was in the process of polonizing Ukrainian ethnic territory in eastern Poland).

The Germans, interestingly,  were first brought to the Russian Empire by Catherine the Great in the late 18th century. These colonists, Mennonites and others, were settled in the steppes, where they farmed the land. Many fled (wisely) during the Russian revolution.


Back to MAIN Pysanka Books home page.

Back to MAIN Books home page.

Back to Pysanka Bibliography.