Detail from a woven Hutsul rug

These wooden pysanky are almost all from my mother's collection, and are the size of hen's eggs or slightly smaller.  They are different in from the traditional painted wooden pysanky in that a design is painted on a natural (or very lightly stained) wood background, and then a coat of varnish is applied.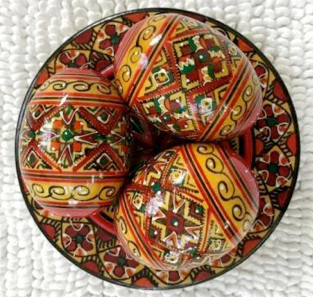 Some try to recreated traditional Hutsul pysanka patterns, others have simple geometric striping, similar to other Hutsul wooden crafts (pens, small carvings and other souvenirs) and with patterns reminiscent of Hutsul woven rugs.They also differ from the painted pysanky in their use of black for outlining.

A less common variant is the icon pysanka.  The wooden eggs used are usually much larger, and are commonly displayed on small stands. Since these pysanky harken from western Ukraine, we see some Catholic imagery–as, for instance, the Sacred Heart of Jesus–as opposed to the Byzantine Orthodox iconography seen on the black lacquer wooden pysanky.